A TASTE OF THINGS TO COME : TOKYO, 16 OCTOBER 2015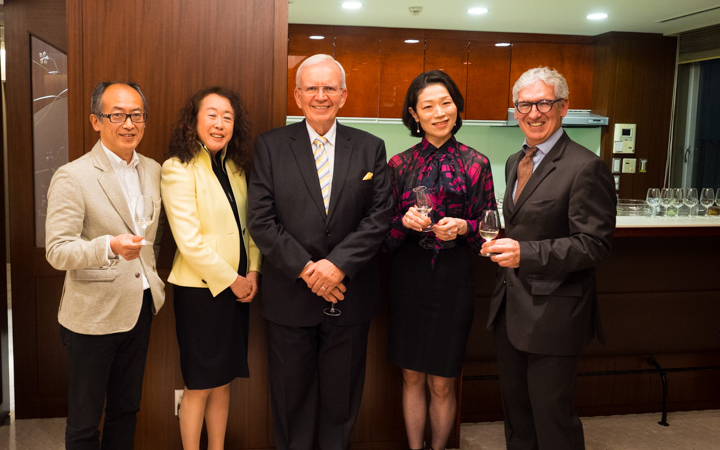 Phoenix Wine Club members enjoyed a 'taste of things to come' at Phoenix House in Tokyo on 16 October. Club founders Yuko and Bob Harris brought from France a Saint Aubin 1er cru Les Frionnes 2013 from domain Philippe Germain, a Nuits Saint Georges 1er cru Les Porêts 2013 domain Chevillon Chezeaux, and 'la piéce de resistance', a Corton Grand Cru Le Rognet 2009 from Domaine Michel Mallard.
Club Director Antoine Roméro announced that these 3 appellations will be among 8 new wines from Burgundy to be added to the range on offer in Japan. Phoenix wine Club will also propose the following new appellations: Maranges 1er cru Clos Roussot 2011 Château de Melin, Nuits Saint Georges 1er cru Les Saint Georges 2013 domain Chevillon Chezeaux, Bourgogne Pinot Noir 2014 domain Jean Luc Maldant, Hautes Côte de Beaune white 2014 domain Philippe Germain and Santenay 1er cru Grand Clos Rousseau 2013 domaine Claude Nouveau. In all, 20 different appellations of Burgundy wine as well as 2 Champagnes will be proposed to Club members in Japan next year.
Participants heard an update on the UNESCO world heritage listing of the climats of Burgundy and the exceptional harvest of 2015. This was also an occasion to link the continents, as a group of members from Geneva visited Phoenix House in Tokyo for the first time. The Club welcomed friends of Chissa Kawaguchi, whose family group of companies has the distinction of being founded in the first year of the Meiji restoration – 1868 – leading to the development of modern Japan and the forging of cultural links with Europe.